by Raquel Reichard, @raquelreichard
After spending six days with the PR On The Map team in Puerto Rico, I returned to New York on Thursday. I'm still processing what I saw because, speaking honestly, the situation is very grave, but I do know that I am thankful to everyone who donated and helped make this trip possible, including Rosa Clemente, who organized it, and that I'm deeply saddened by the crises I witnessed firsthand on the island and angered by the false picture this administration and the mainstream media are both painting.
I read last Wednesday morning that officials are saying the death toll is at 45. That same afternoon I talked with a man named Tomas, the owner of Funeraria Javariz in Aguadilla, and he called it nonsense, telling me 30 people in his municipality alone have passed away because of the hurricane.
Tomas, Funeral Home Owner from Aguadilla
The people are dying. Without electric power, the sick are unable to take their insulin or use nebulizers. Nearly all of the people I spoke with have not received any aid from FEMA. In two areas where I visited that government "help" had arrived, a part of Naranjito and a part of Vega Baja (I say "part" because authorities often hit just a few homes or neighborhoods in towns and then check it off), I was told officials refused to bring water up the mountains or rocky hills, forcing the people to walk down and get it — most of whom are elderly and physically can't make the trek.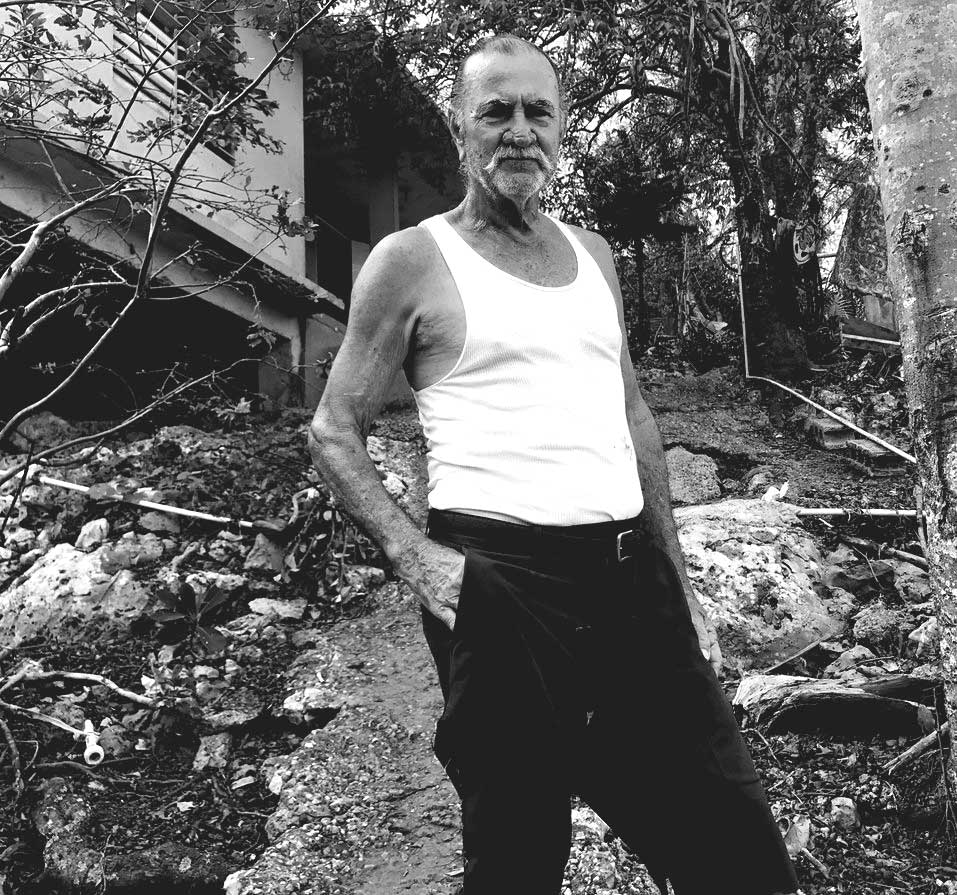 Ruben brings water to his neighbors because FEMA won't climb the hills.
They are starving. They are thirsty and drinking unsanitary water because the heat is unbearable. Yet the donations sent by people from the U.S. and around the world have still not been released to the people. The excuse we were told: there is no one to inspect the packages. Many, especially those who lost parts of their homes or whose houses were completely destroyed and are now living on the streets or with neighbors, are depressed. Considering the lack of physical aid they are receiving, I'm not hopeful that they will be getting the help they need for their mental health. There have already been two reported suicides because of the distress. I have no doubt that number, if not already higher, will increase. In addition to homes, many lost businesses and numerous are out of jobs.
Outside of the humanitarian crisis, which I've sadly just barely touched on, the land itself is a heart-shattering sight. If you have never been to Puerto Rico before Hurricane Maria, I'm afraid you may have missed the chance to see one of the most beautiful islands in all the world. El Yunque, the island's treasured rainforest, has been obliterated. Gone with it will likely be species of trees and birds, some that only existed in Puerto Rico. But that's not all. The lush greenery across the island, especially on the mountains, is now brown. Lifeless palm trees bow or lie alongside roads. From above, parts of the island appear black. One expert said it might take a century for the land to fully recover, and even then, what grows won't be the same. At night, the choir of coquís did not sing as loud as usual. On the San Juan street where we spent our nights, there was only one lullabying us to sleep.
Every day I saw the people, everywhere, taking care of one another. These same people even offered me their own very limited water and food. In six days, I saw one governmental truck clear up a road — and that remains the only aid I witnessed on behalf of the U.S. That's not to say there is no U.S. presence, but their role is questionable. Little effort is being made to save lives. I saw two FEMA boxes, one from a mayor and one from a family. They consist of a couple Chef Boyardee cans and a couple small cans of salchichas along with about five packets of snacks. Depending on where you live, you get four bottles of water or a whole pack.
There is one box per family, regardless of size, and it is only provided one time. That box is devoured in an hour, if not minutes, and then that's it. While that's what is happening, a Puerto Rican sergeant, conflicted by his love for his people and following orders he does not believe will help them, told a member of our team that this is not what U.S. relief looks like, and that he doesn't understand why this is what it is in Puerto Rico. I personally spoke to a man who worked for FEMA for 20-plus years, and he told me this was the worst aid he had ever seen in his career.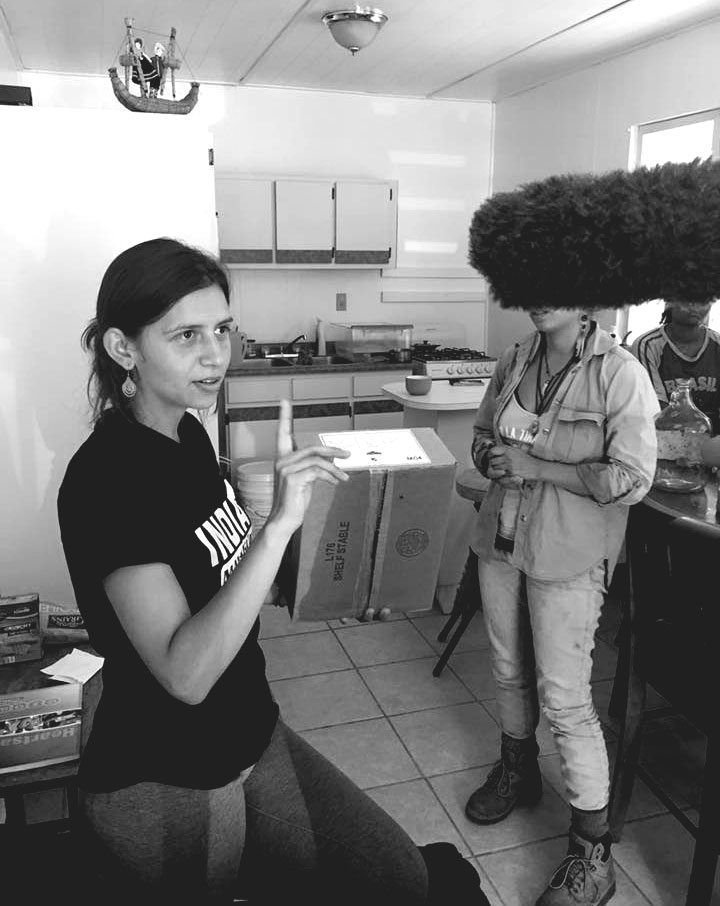 Showing us the ONE box received 3 weeks ago.
At the risk of sounding like a conspiracist, I must still say what I am seeing: genocide. The U.S. has a long and very real history of attempting, and carrying out, the execution of the Puerto Rican people, and this, to me, is what that looks like in 2017. The U.S. wants a Puerto Rico without Puerto Ricans — this is clear.
I am a Boricua of the diaspora, and that's crucial for me to note. After six days on the island, I get to return to New York, to running water, to vegetables and fruits, to open restaurants, to light, to AC, to Netflix, to ATMs, to feminine hygiene products, to communication, to life as I've always known it. I get to write about the situation instead of experiencing it every day. I have the privilege of thinking about buying land on the island instead of being forced to leave it to (barely) survive in places like Orlando, Philadelphia, New York, New Jersey, Boston, Virginia, Tampa and Miami (all places I've heard people considering moving to). But I also spent my childhood years in Puerto Rico, in the lush that once was Moca, and while my Spanish is subpar and my geographical knowledge even worse, my ties to the land and to the people are very real, as I'm sure it is for all of us who once lived on, or maybe just visited, the island. Please hold your Puerto Rican family and friends tight. Show them all the love and support that you can, because we all really need it right now, and I'm sure we will for a very, very long time. And, if you're able to, please join us in our fight. We have been a part of just about every social justice movement in this country, and we need you now more than ever.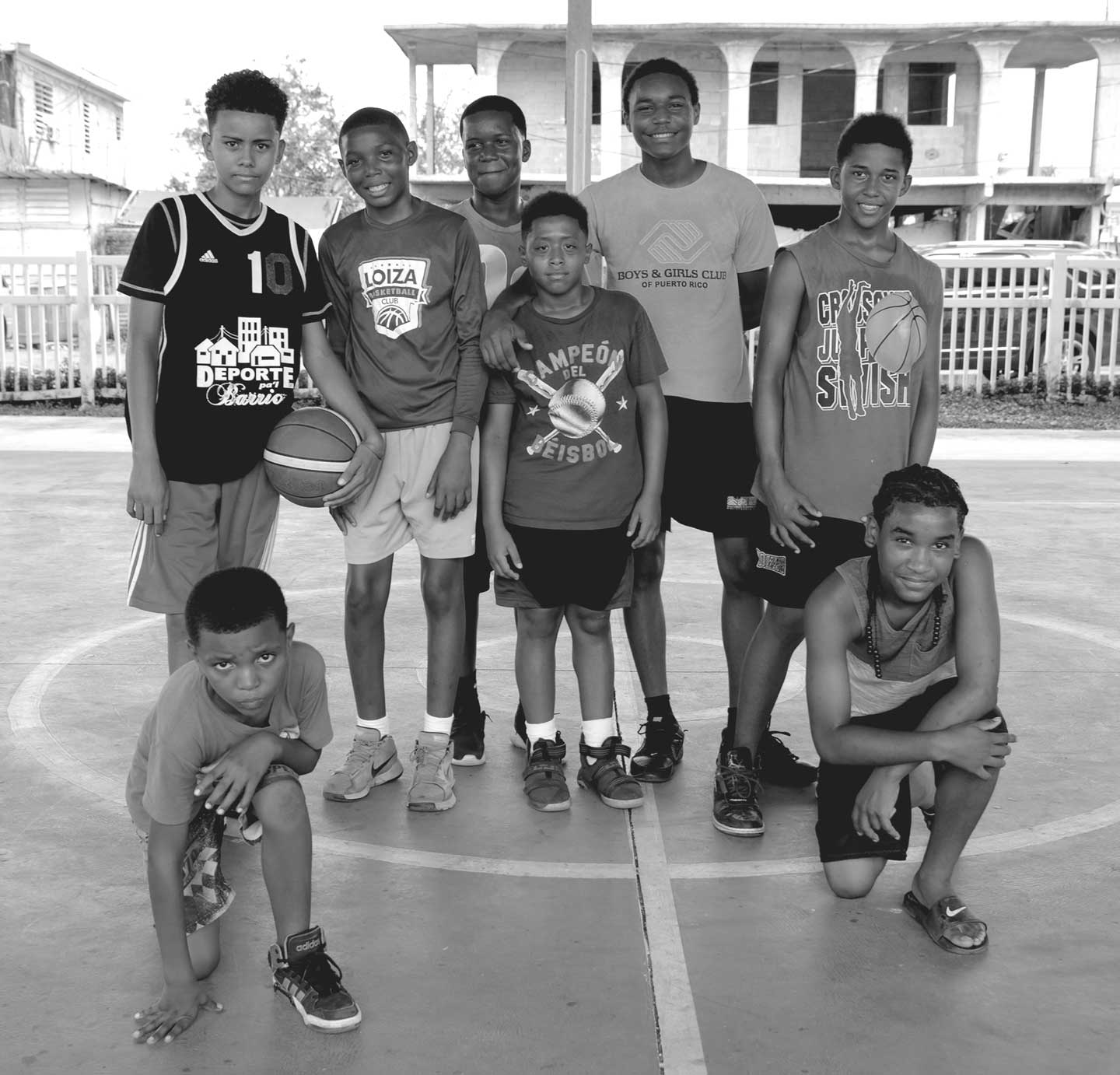 Loiza Youth from Boys & Girls Club.
If you haven't already, check out my Twitter at @raquelreichard for some on-the-ground reporting and/or stay tuned for larger pieces and projects I have coming out this week. But it's not just me. The team is made up of brilliant, talented and passionate Latinx folks, including Rosa Clemente, Kat Lazo, Stephanie Martin Llanes, Eli Jacobs-Fantauzzi, Sense Hernandez, Mateo Zapata and Yanira Casto who are doing work you can follow through our Facebook page PRontheMap – Report, Reimagine, Revive Puerto Rico and the #PRontheMap hashtag. I'll be returning to la isla again in the next couple months to continue documenting the crises and resistance.
Que viva Borikén libre!